Earth Day.
Growing up, I was taught that the way to celebrate this holiday was to plant a tree. So when I saw that
this month's
Mystery Box
challenge was to create a cupcake for Earth Day, I decided to honor our good friends, the trees.
On an episode of Cupcake Wars (one of the few episodes I saw of it) the contestants were asked to bake cupcakes using ingredients that come from trees, and they were given a large table-full of ingredients from which to choose. However, most competitors chose the easy cupcake flavors -- maple, almond, and dates or figs in most cases -- and I was disappointed. I came up with a more adventurous idea to represent some of my favorite tree products: pear, almond, and...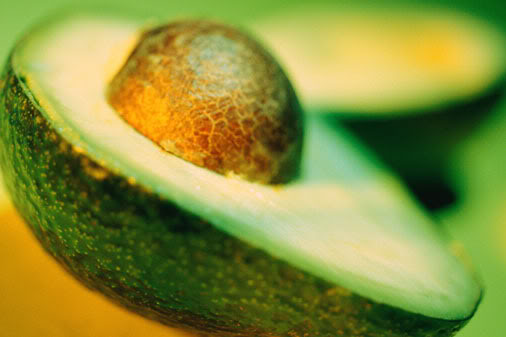 avocado!
My "Plant A Tree" cupcakes consist of a moist avocado cupcake, a caramelized cinnamon-pear filling, and a sweet, creamy almond frosting. The combination works surprisingly well - the cupcake is subtle (tasters said that they would not have known what was in them if I had not told them, although when tasting the cupcake by itself, without frosting or filling, they could detect the gentle avocado flavor) and the filling and frosting create balance with just the right amount of sweetness but without making it too rich.
* 4 Tbsp. vanilla almondmilk (or plain)
Stir avocado mash into the creamed mixture.
Fill cupcake wrappers. Bake at 350º for 30 min.

Caramelized Pear Filling
2 pears, peeled and chopped
Mix brown sugar and cinnamon in a small bowl.
Heat a skillet over medium-low heat and add butter. Add pears, then sprinkle with cinnamon-sugar mixture. Allow to caramelize slowly – for about 10-15 minutes. Remove from heat and set aside to cool completely.
Fill cupcakes using the cone method (cut out a cone from the center, fill with filling, cut off most of the cone, and replace the top).
1/4 cup (1/2 stick) unsalted butter, softened
1/4 cup shortening
3 to 4 cups confectioners' sugar
1/4 cup vanilla almondmilk (if using plain almondmilk, add ¼ tsp. vanilla extract – I would not recommend using sweetened almondmilk, as this frosting is already quite sweet)
1/2 tsp. almond extract
small pinch salt (optional)
Place the butter in a large mixing bowl and beat until creamy. Add 2 cups of the sugar and the almondmilk, extract(s), and salt, if using. Beat until smooth. Gradually add the remaining sugar, 1/2 cup at a time, beating well after each addition, until desired consistency is reached. (Use and store at room temperature because icing will set if chilled.) Pipe onto cupcakes, and garnish with almonds if desired.
The winner of April's Mystery Box Cupcake Challenge will receive prizes from:

Thank you to all our prize sponsors!